Whether it's on and off again lockdowns leaving you stuck inside or just some much needed at-home relaxation it's important to make your home feel like a haven. So we're giving you the chance to win a bunch of goodies to create your perfect day at home.
 Win a $500 Arnhem Voucher 
Win a Byron Bay Candles Gift Pack  ($215 value)
Win Crock'd Clay Kit for 2 people ($80 value)
Win 2x cases of CAN Vodka + Sodas ($220 value)
Win caffeine lovers dream pack from Wide Open Road ($240 value)
1x 6 month, 250g coffee subscription of the winner's choice of eligible product

1x 4 pack nitro cold brew coffee

6x 500mL Chai La Lai concentrate

 
TOTAL VALUE: $1200+ AUD
Please note this giveaway is 18+ only in Australia and the alcohol prize is not eligible for worldwide entries.
About our incredible partners...

Wide Open Road
"Way back in 2009 we had the wild idea to start roasting our own coffee. Starting out on a 6kg Giesen roaster we experimented, cupped, played, cupped some more and after a year of messing around we came out with our first blend, Bathysphere was born. Somewhere in there decided on another name, one for the roastery and cafe we had planned, a name that could carry us forward. It had to be a song title because after our first cafe, A Minor Place had brought us so much luck and joy it became a superstition to name all things after songs we loved. 

But Wide Open Road is more than a song title, it's a mood, a state of mind, it conjures a narrative and story of how we want to travel through the world. To this day that narrative drives our decisions, it directs us as we navigate all the changes, the hardships and the joys that come with building something that you care about, something you hope other like minded souls will get on board with and add their creative energy to, a community of people who love to see things transformed and help to grow what is essentially an intangible idea, a Wide Open Road.

We're now supplying freshly roasted coffee to folk all over Australia and the world.

Moving forward our focus is to continue to provide our people with great products but also to move our industry towards a sustainable future. This is not a simple task but a series of decisions that will take time but is absolutely necessary for a healthy future."

Byron Bay Candles
Every candle and reed diffuser is hand-poured onsite with the finest quality ingredients including pure soy wax, cotton wicks, pure essential oils and beautifully combined aromatic fragrances.

By us overseeing the pouring process you are guaranteed of burning elements free from toxic substances such as petroleum based, paraffin waxes and paraben enhancers which can have adverse side effects on your health.

And we consist of a supportive team of creatives who focus our care and attention into every item produced so you experience a shared sense of harmony and balance within your world.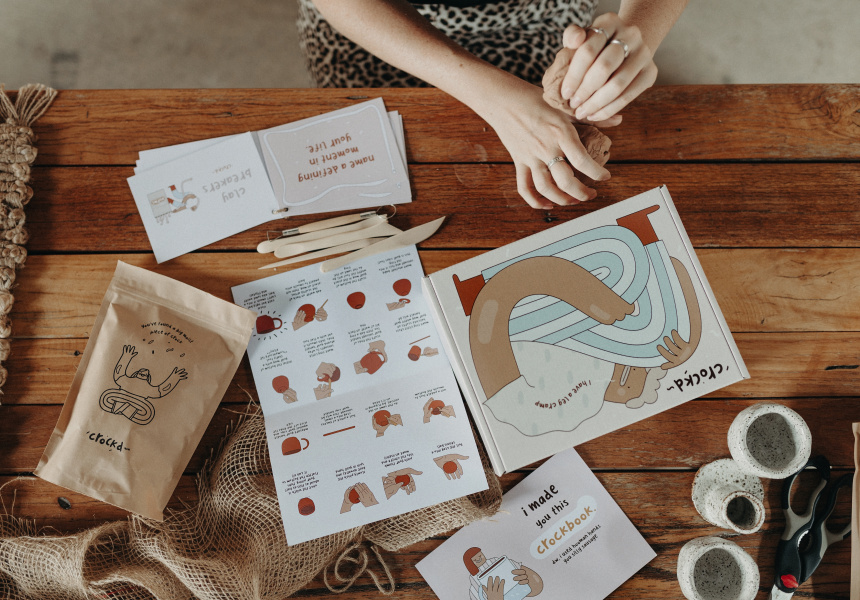 Crockd
Crockd is a purpose-driven art therapy experience. We've created a pottery kit that simulates the effects of art therapy but from home. Grab a buddy to get deep and dirty with. Make cool stuff while having empowering and meaningful connections. 
Crockd pottery kits are 100% beginner-friendly - no skills, and no kiln required. 
C.A.N.
C.A.N is a low sugar, low cal, super tasty vodka + soda mix… in a C.A.N (see what we did there?) . C.A.N donates 10% of all profits from the brand to our conservation partners in support of their land, water, and air conservation efforts - meaning you can feel good about sipping on a C.A.N. 
---